Improve Air Quality with an Automotive AC System Cleaning
How clean is the air in your car? In addition to getting regular vehicle maintenance, it's important to have your automotive AC system cleaned as well. With routine maintenance of your vehicle's ventilation system, you can eliminate issues and help prevent them from becoming bigger, more expensive, problems. You need to clean your car's AC system because the filter can get clogged with common air quality contaminants, such as:
Vehicle Exhaust
Road Dust
Pollutants
Greenhouse Gases
Pollen and Allergens
Offensive Odors
---
---
Why Get an Automotive AC System Cleaning
An AC system cleaning service treats your entire ventilation system and is recommended each time you change your cabin air filter. This cleaning:
Reduces allergens and contaminants
Improves cabin air quality
Eliminates naturally occurring odors
Leaves a clean, fresh scent
You also get you to choose your scent. Our available scents include fresh citrus, clean linen, lavender, or unscented.
For a limited time you can get an automotive AC system cleaning with cabin air filter for $99.99*. You can schedule service online or contact us in Marietta, not far from Smyrna and Atlanta.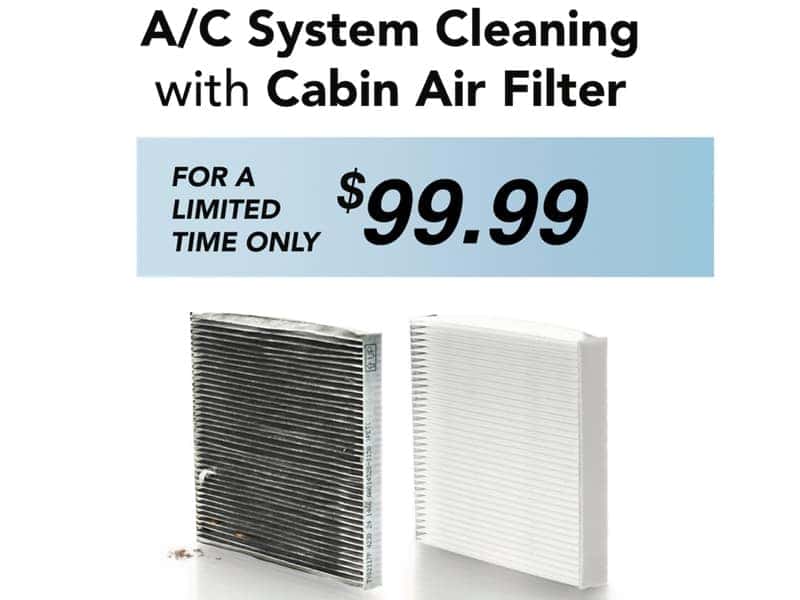 Marietta Toyota Service Specials
*Toyota vehicles only. Plus tax. Not valid with any other offer. Prior sales excluded. Valid only at Your Toyota Dealer Name Here. Offer expires 8/31/18