The Difference Between Synthetic and Conventional Oil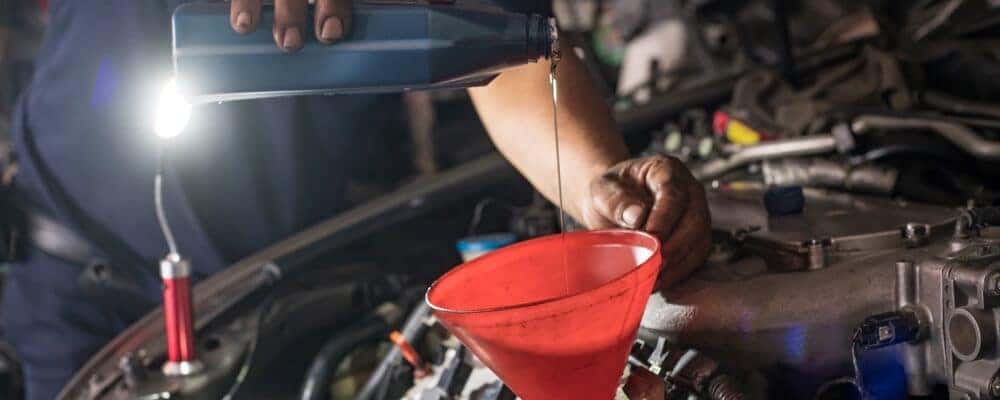 Schedule Service Service Specials
If you're already a proud Toyota owner, you're likely looking to get the most miles possible out of your car. While Toyotas are built to last, getting your oil changed is essential to helping maximize the longevity of your vehicle. Before you get your next Toyota oil change in Marietta, it's also important to run through the costs and benefits of synthetic vs. conventional oil. Do your research here, and then come see our certified technicians at Marietta Toyota's service center!
Is Conventional Oil Good Enough?
Conventional oil can seem like a good idea, particularly if you look at the price tag. The fact is that conventional oil will cost you less out of the gates and therefore might not cause the same sticker shock as synthetic oil. However, while conventional oil serves the essential purposes of lubricating your engine's moving parts to prevent excess friction and heat, it's not nearly as refined as synthetic motor oil.
Why is Synthetic Oil Better?
Synthetic oil starts out as conventional oil, but it is modified through a process of adding certain elements that offer a range of benefits for your vehicle, including:
Superior Lubrication – Synthetic motor oil includes other lubricating materials that help it retain its lubricating capacity at higher temperatures, both reducing wear and tear and improving engine efficiency.
Lower Maintenance Costs – Synthetic motor oil is made to stick together for longer before breaking down, so while you might pay a bit more up front, the oil will last longer and require fewer oil changes than conventional oil.
Less Debris – Synthetic motor oil doesn't leave as much sludge on engine components, helping maintain the health of the engine for longer.
Schedule Your Toyota Oil Change Today at Marietta Toyota
Smyrna drivers are encouraged to schedule an oil change at Marietta Toyota. At our Toyota service center, we have a full team of factory-trained and certified Toyota technicians on hand to handle your oil change, and we use Toyota OW20 synthetic motor oil. We can even take care of oil changes included as part of the Toyoguard maintenance program. We'll also run through a basic inspection of your vehicle courtesy of our Express Maintenance program, which includes:
Brake inspection
Filter change
Tire rotation
Fluid inspection
Multi-point inspection
Our Toyota service center is open seven days a week at 750 Cobb Parkway Southeast in Marietta, GA. You can reach us online or give us a call at (470) 938-8430.